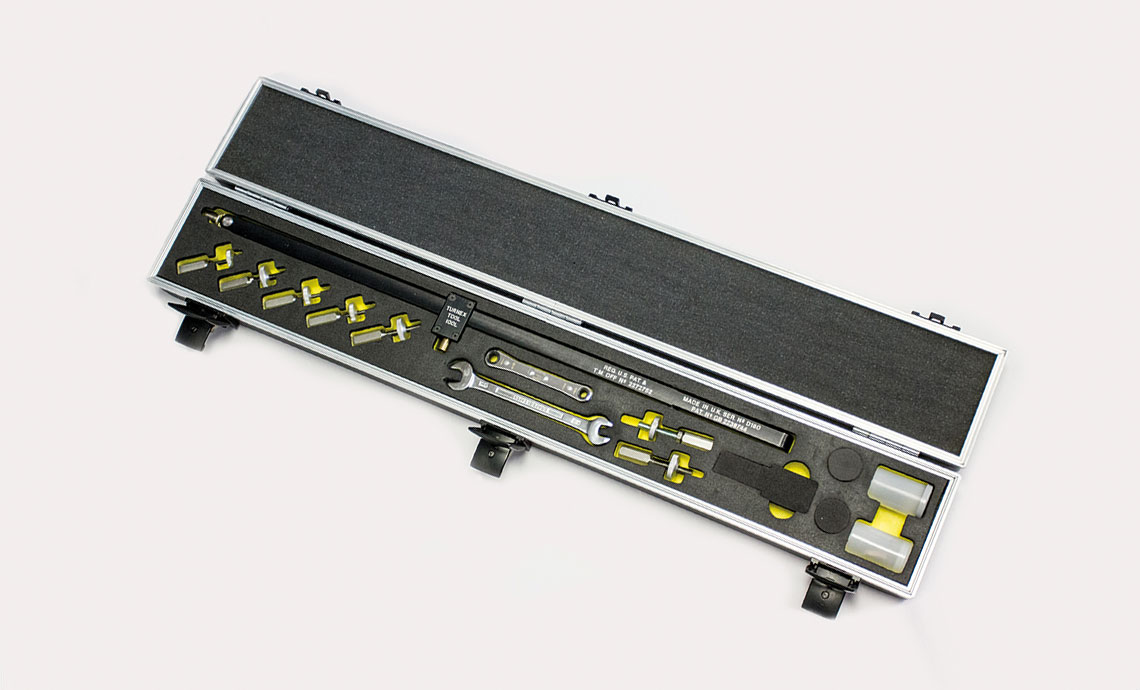 Description
The TURNEX100L is a larger version of the TURNEX50.  The general workhorse of the TURNEX range, it is an essential tool kit in the maintenance tool cabinet.
The kit consists of a pressure lever bar, a slide block bit assembly and a threaded anchor adaptor.
Application
Designed for use on large or heavy aircraft ie Boeing 777 and Airbus A330. Extremely user-friendly when working underneath the wing for removal of access panels.
Effective up to a 3" screw pitch.
Component materials
Aluminium Alloy and Steel
Measurements
Length 63cms, Width 2cms, Depth 1.5cms
Operating weight
665 grammes
TURNEX100L Imperial Tool Kit
Part No. TURNEX100L IMP
KIT NSN 5180-99-7461120
| | |
| --- | --- |
| Contents – Imperial | Part No. |
| TURNEX100L Fastener Extraction Tool | TURNEX100L |
| 8/32 UNC Adaptor | A0/1000/20 |
| 10/32 UNF Adaptor | A0/1000/21 |
| 1/4 UNF Adaptor | A0/1000/22 |
| 5/16 UNF Adaptor | A0/1000/23 |
| 10/32 UNF Adjustable Adaptor | A0/1000/21D |
| 1/4 UNF Adjustable Adaptor | A0/1000/22D |
| 1/4 x 5/16 AF Ratchet Ring Spanner | 5120-01-0480170 |
| 1/2 x 9/16 AF Open Ended Spanner | 5120-99-1300070 |
TURNEX100L Metric Tool Kit
Part No. TURNEX100L MET
KIT NSN 5180-99-2911348
| | |
| --- | --- |
| Contents – Metric | Part No. |
| TURNEX100L Fastener Extraction Tool | TURNEX100L |
| 4mm Adaptor | A0/1000/M4 |
| 5mm Adaptor | A0/1000/M5 |
| 6mm Adaptor | A0/1000/M6 |
| 8mm Adaptor | A0/1000/M8 |
| 5mm Adjustable Adaptor | A0/1000/M5D |
| 6mm Adjustable Adaptor | A0/1000/M6D |
| 8mm Adjustable Adaptor | A0/1000/M8D |
| 1/4 x 5/16 AF Ratchet Ring Spanner | 5120-01-0480170 |
| 14mm x 15mm Open Ended Spanner | |