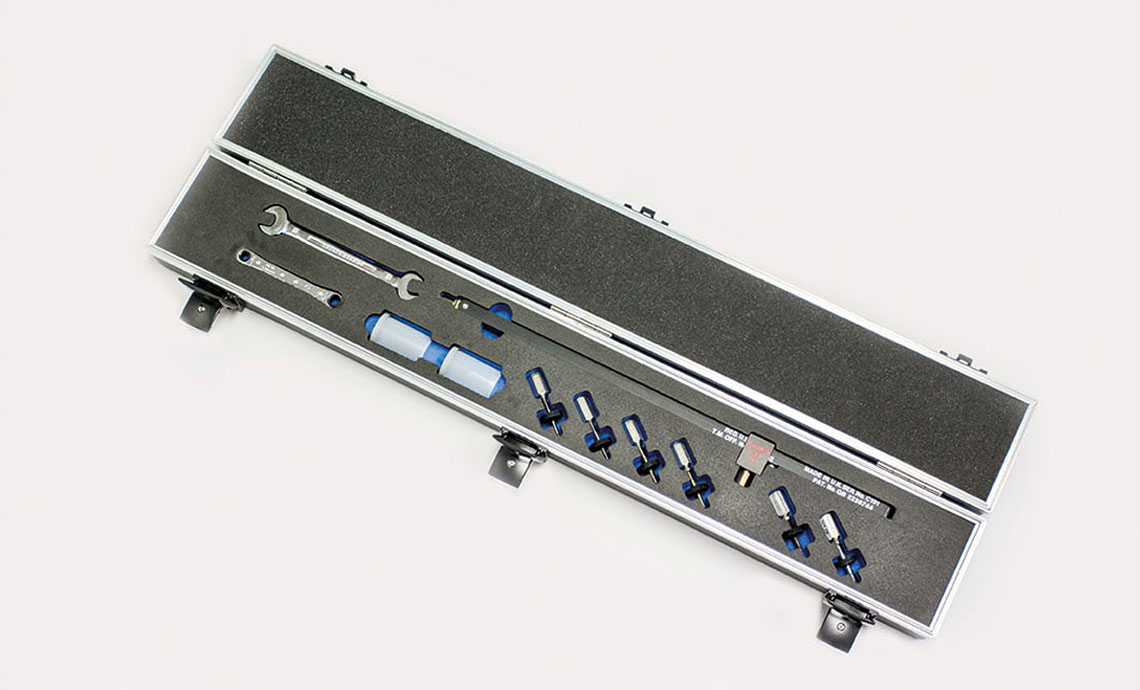 Description
The TURNEX50 is extremely lightweight and the smallest of the range of turnex tool kits.
The kit consists of a pressure lever bar, a slide block bit assembly and a threaded anchor adaptor.
Application
The TURNEX50 is ideal for use on fuselage and fairing panels and in cabin locations on small or medium sized aircraft and helicopters. Its small size and weight is an asset in cabin locations and confined spaces.
Effective up to a 3" screw pitch.
Component materials
Aluminium Alloy and Steel
Measurements
Length 60cms, Width 2cms, Depth 1.2cms
Operating weight
450 grammes
TURNEX50 Imperial Tool Kit
Part No. TURNEX50 IMP
KIT NSN 5180-99-7888498
| | |
| --- | --- |
| Contents – Imperial | Part No. |
| TURNEX50 Fastener Extraction Tool | TURNEX50 |
| 8/32 UNC Adaptor | A0/1200/11 |
| 10/32 UNF Adaptor | A0/1200/12 |
| 1/4 UNF Adaptor | A0/1200/13 |
| 8/32 UNC Adjustable Adaptor | A0/1200/11D |
| 10/32 UNF Adjustable Adaptor | A0/1200/12D |
| 1/4 UNF Adjustable Adaptor | A0/1200/13D |
| 1/4 x 5/16 AF Ratchet Ring Spanner | 5120-01-0480170 |
| 7/16 AF Open Ended Spanner | 5120-99-9106001 |
TURNEX50 Metric Tool Kit
Part No. TURNEX50 MET
KIT NSN 5180-99-5626176
| | |
| --- | --- |
| Contents – Metric | Part No. |
| TURNEX50 Fastener Extraction Tool | TURNEX50 |
| 4mm Adaptor | A0/1200/M4 |
| 5mm Adaptor | A0/1200/M5 |
| 6mm Adaptor | A0/1200/M6 |
| 4mm Adjustable Adaptor | A0/1200/M4D |
| 5mm Adjustable Adaptor | A0/1200/M5D |
| 6mm Adjustable Adaptor | A0/1200/M6D |
| 1/4 x 5/16 AF Ratchet Ring Spanner | 5120-01-0480170 |
| 12mm Open Ended Spanner | 5120-99-9106290 |